Downtown Vancouver's future third tallest and greenest building is moving forward to launch. In fact, it will also be the world's tallest certified Passive House green building. The 60-storey, mixed-housing tenure tower that is set to rise at the mid-block site of 1059-1075 Nelson Street — between Thurlow and Burrard streets — has now been named CURV.

Since seeing its rezoning application approved by Vancouver City Council in June 2020, the project's ownership has changed hands from Vancouver-based Henson Developments to Montreal-based Brivia Group, which completed its acquisition last fall. As well, the project has gone through some minor exterior design changes after the city's Urban Design Panel review, and the development permit application was subsequently approved earlier this month.
The tower will contain a total of 501 homes, including 102 units of social housing and 49 secured market rental homes on the lower floors, and 350 market condominium homes on the levels above. Various common amenities for residents will be scattered across the building, including a children's outdoor play area and ground level, and a significant amenity on the tower rooftop level that includes a hot tub, lounge area, BBQ kitchen with dining area.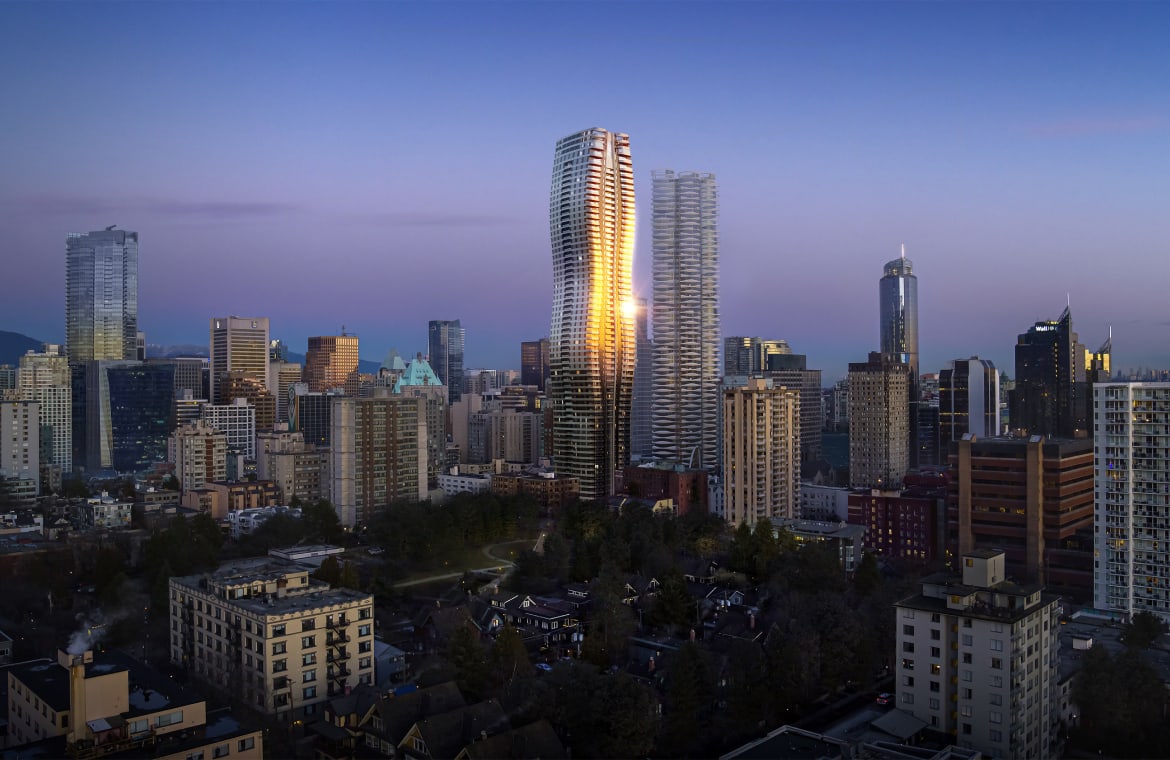 That, however, was Wright's challenge, to design the world's tallest Passive House, an intensely practical and sustainable building, and to make it beautiful – so distinctive and inspiring that it would serve as an example to the whole world.

Wright says his first inclination is always to do "something sculptural." Because of the Passive House element, he also wanted to do "something organic – something that is closer to nature." So, the team approached Vancouver's planning department in search of a setback compromise: If Wright bent the building in by two and a half meters at the base and bent it out by the same amount higher up, would the city accept the average? And the city said, "Yes!"

That is how Wright was able to break out of the box: instead of four straight lines, he has delivered the sensuous curves that will distinguish this exemplary building.

Wright himself stops short of suggesting that CURV is, or will be, iconic, saying, "We shall see in 10 years." But in a city of boxes, or more recently, boxes on boxes, CURV is destined to be unique. Brivia is planning to launch its condominium sales for CURV in Fall 2022. The developer was unable to provide a potential start year for construction, but they are targeting completion by 2027.