CURV will be a global flagship tower that creates a new era, official says.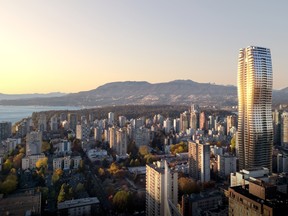 As a lad growing up in England, Tom Wright fancied someday becoming a soldier.

"But my father decided that instead of me joining the army, which is what I wanted to do, he said, 'Don't destroy buildings, put some buildings up.'"
The next Wright-designed building to go up, Downtown Vancouver's CURV, is the British architect's first in North America. He may be most famous for his design of the "seven-star" dhow inspired Burj al Arab in Dubai, but it's the CURV he likes most to talk about, he says.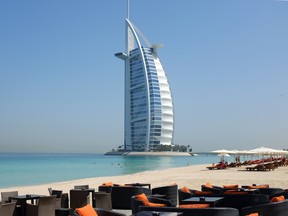 Construction begins next year at Nelson and Thurlow streets, with a projected completion date in 2029. When built, the CURV, at 60 storeys, will be the tallest passive house in the world and the tallest residential tower in Vancouver.
It's also the first building project in Vancouver for Montreal-based developer Brivia.
"The passive-house part of the project is the important part, not how (the building) looks," Wright said on Tuesday after a ribbon-cutting ceremony to kick off presales that begin on May 27.
"It really pushes the boundary of how little energy a tall building should use, that is the key thing about the building, how little energy can we burn.
"Then if it's successful as a building — and we have every right to believe it will be successful — it becomes like a prototype of future buildings."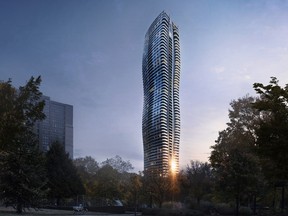 The CURV — Wright's design is meant to resemble the unfolding of a fresh, green shoot emerging from a crack in a city sidewalk — will have 96 social-housing units (an average of about 10 units per floor), interiors by award-winning designer Andres Escobar and a rooftop amenities' area.